Welcome to the 12
th Rudolf Lion Cup
This year the Rudolf Lion Cup will take place on 28th of September 2019.
The Rudolf Lion Cup is an international tournament in rhythmic gymnastics which takes place at the City Hof /Saale, Bayern, Germany. We are proud to have so many clubs representing so many countries at our competition. We are looking forward to see u all at the Jahnturnhalle in the city of Hof.
Why Rudolf Lion?
He was president of the gymnastics club Hof and the Bavarian Gymnastics Federation. Rudolf Lion was born 17.04.1843 Göttingen, died 06.05.1893 Erlangen, buried at Hof. In case of his services, a monument was erected 1896 at the Jahn-Sports-Court Hof. Furthermore, the Lionstreet and the Lion Hall bears his name. At lifetime he took care about popularity and advancement at school of gymnastic sports. The Rudolf Lion Cup is a tribute from us to his honor.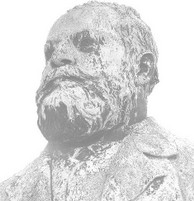 R
udolf Lion sculpture at Jahn court,
next to the competition hall